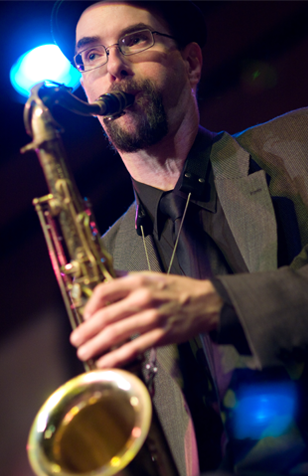 Saxophonist and flutist Greg Fishman is an accomplished performer, recording artist, author, teacher and clinician. Born in Chicago in 1967, he began playing professionally at age fourteen. Greg graduated from DePaul University in Chicago with a degree in Jazz Performance, and earned a Masters Degree in Jazz Pedagogy from Northwestern University.
He is among the foremost experts on the music of Stan Getz and is the author of three Getz transcription books published by Hal Leonard. His self-published books, Jazz Saxophone Etudes Volumes 1 – 3, Jazz Saxophone Duets, Volumes 1 – 3, Jazz Phrasing for Saxophone, Volumes 1 – 3, Hip Licks for Saxophone, Jazz Guitar Etudes, Jazz Trumpet Duets and Tasting Harmony™ are in circulation worldwide and have been endorsed by top educators and jazz performers, including Michael Brecker, Jerry Coker, Bob Sheppard, James Moody and Phil Woods.
Greg is a contributing author of jazz theory articles for Jazz Improv magazine, JAZZed, Chicago Jazz Magazine, IAJE Jazz Educators Journal, and was featured on the cover of Saxophone Journal, for whom he also writes. He is the author of the liner notes for the Verve reissue of the Getz recording The Steamer.
Greg has toured and performed worldwide with his own group, and with such artists as the Woody Herman Band, Louis Bellson, Slide Hampton, Conte Candoli, Lou Levy, Clark Terry, Jackie and Roy, Don Menza, Ira Sullivan, Judy Roberts, Jeremy Monteiro, Jimmy Heath, Lou Donaldson, Harry Allen, Jeff Hamilton, Eddie Higgins, and Benny Golson.
Greg is the co-founder, along with Brazilian guitarist/vocalist, Paulinho Garcia, of the award winning duo, "Two for Brazil." They perform worldwide, and have recorded five CDs. Greg's current discography features additional jazz releases in the U.S., Singapore, and Japan.
In addition to clubs and concerts in the U.S., Greg has been featured at the Concord-Fujitsu jazz festival in Japan, the NorthSea Jazz Festival in the Netherlands, and in numerous concerts in Hong Kong, Bangkok, Singapore, China and Israel.
Greg teaches jazz master classes and college workshops nationally and internationally, and is on the faculty of the Jamey Aebersold Summer Jazz Workshop.
When not on tour, Greg is based in the Chicago area where he performs locally and teaches at Greg Fishman Jazz Studios. Greg Fishman is a Rico artist and plays Rico reeds exclusively.
Greg Fishman Jazz Studios began in 1992 as a teaching studio. As part of my lesson plan for my students, I'd often write a solo or "etude" to demonstrate how to play effectively over chord changes. Students really enjoyed playing these etudes, and started sharing them with their friends. In a short time, I had fellow saxophone teachers asking for copies of the etudes for use with their own students. In 2004, I produced my first self-published book, Jazz Saxophone Etudes.
The original book featured twelve etudes, but came without any play-along CDs. In the year after the initial release of the book, I received great feedback on the etudes, as well as suggestions for making the book even better. Saxophonist Mark Colby suggested that I include play-along CDs with the book. Dave Liebman suggested that I add a section on suggested use, as well as some analysis.
Including a play-along CD was problematic, because in order for the etudes to lay well on the saxophone, they need to be played in the original key. Since altos are in Eb and tenors are in Bb, this means that the music will lay well for either alto or tenor, but not both. The horn playing the transposed part will be compromised. Play-along books usually include a play-along CD in just one key, forcing some instruments to play outside of their comfortable range.
If a piece of music is written for alto saxophone and transposed for tenor sax, the transposition of the original part changes all of the fingerings, putting the notes in a range slightly too high (if transposed up to match the alto) or too low (if transposed to play an octave below the alto). Often, to accommodate these differences in range, publishers will shift portions of solos by a full octave to make the range more playable on the transposing horn, but this really compromises the musical integrity of the composition.
My solution for this problem was to record the rhythm-section accompaniment in two different keys. With this approach, all saxophonists could read the notes exactly as I wrote them, and they'd always be in the perfect range of the horn. The etudes would also maintain their original idiomatic fingerings, which are essential for the pieces to be played comfortably on the horn. Essentially, I'm having the rhythm section transpose to accommodate the range of the saxophone, just as they'd change keys to accompany a male singer's vocal range versus a female singer's vocal range. This unique feature sets my books apart from all others on the market.
The overwhelming enthusiasm for the books from teachers, students, and major artists in the field, including: Michael Brecker, Phil Woods, James Moody, Plas Johnson, Bob Sheppard, Dave Liebman, Jerry Coker, Jamey Aebersold, (and many others) is what made the books popular with saxophonists around the world.
The books are designed to be used in many different ways, depending on the level of the player. A beginning player can use the books to improve their skills on the saxophone, improving their tone, technique and sight-reading skills. A more advanced player, using the same book, can learn about theme and variation, melodic development, use of sequence, voice-leading, etc.
All of the books are designed to help saxophonists develop a high level of fluency in the jazz language by providing mainstream jazz vocabulary (swing/bop/post-bop) that nails the changes and lays great on the horn.
Greg Fishman Interviewed:
Click the logo to go to Greg Fishman's D'Addario Artist Profile