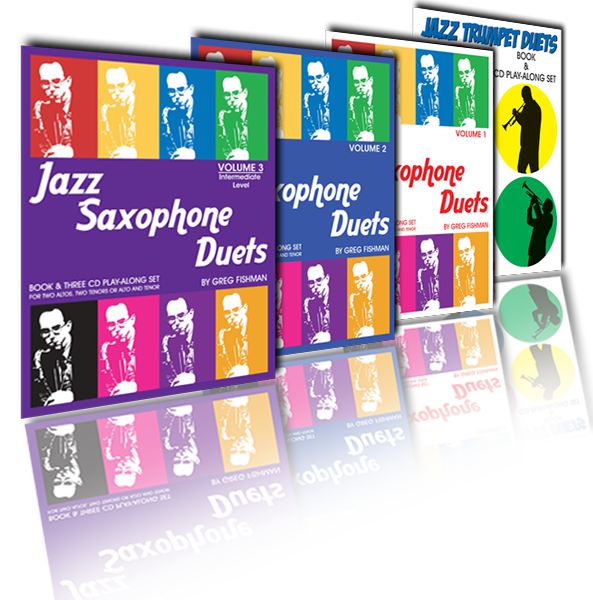 "Greg Fishman's Jazz Saxophone Duets is perfect for the player who wants to improve his ear, technique and style. The duets are fresh, articulate and melodic enough to memorize." – Plas Johnson
Jazz Saxophone Duets:
Each of the 10 duets has four corresponding CD play-along tracks:
1. Saxes 1 & 2 + Rhythm Section
2. Sax 2 + Rhythm Section
3. Sax 1 + Rhythm Section
4. Rhythm Section Only + extra choruses for soloing
There are 40 tracks per disc x 3 discs = 120 tracks! Each CD contains more than 60 minutes of music.
The duets are playable by:
2 Altos, 2 Tenors, or Alto & Tenor
Saxophonist Greg Fishman plays the lead tenor part and both alto parts. Saxophonist Mark Colby plays the second tenor part.
Jazz Trumpet Duets:
This book includes 10 Duets and a 40 track Play-along CD. The Play-along CD also contains extra rhythm section tracks for extended blowing and for playing "live" with two trumpeters.
Master Trumpeter Mark Olen plays both parts of the duets along with a fantastic rhythm section. Players have a choice of playing the lead part or the second part along with the recording.
Also included is a style and analysis section, and a detailed practice guide for intermediate, advanced and pro-level players.
Click the sheet music thumbnail  below for an mp3 and full-sized sheet music example.