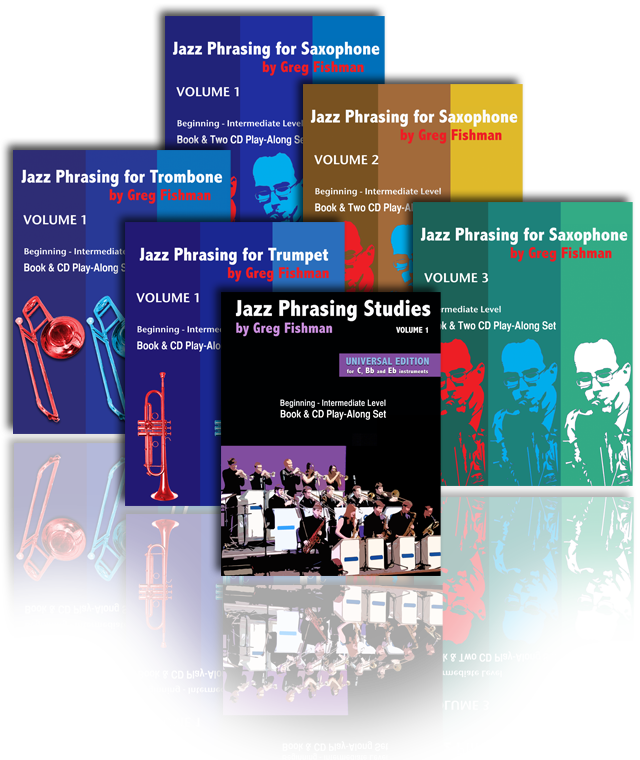 "This new book of Greg's is the DNA of jazz education and the best of its kind to date. I played through it and without a doubt, it is enjoyable on every level. Highly educational and something our world needs." – Tim Price, Professor of Saxophone, The New School, New York
Jazz Phrasing Studies Volume 1 features the same great songs as Jazz Phrasing for Saxophone Volume 1, but in a universal edition! Includes transposed parts for all C (treble clef), Bb, Eb and C (bass clef instruments).
This book is perfect for individual and ensemble use. Band directors can order multiple copies, hand out the books to the entire band, and they're set for the entire year with ten great songs that can be used for daily warmups, phrasing studies, sight-reading, intonation training, section balance, etc.
These songs are also great for concert performance, and they're easily opened up for multiple soloists. Chord progressions for the songs are based on popular standards, with harmonies similar to Satin Doll, Autumn Leaves, Summertime, etc.
The play-along CD features demonstration tracks of all songs, played by Greg Fishman on alto (3 songs) and tenor saxophone (2 songs), Victor Garcia on trumpet (3 songs) and Russ Phillips on trombone (2 songs). With this great variety of instruments demonstrating the tracks, everyone gets a chance to play and blend their sound with multiple instruments. CD also includes rhythm section-only tracks, perfect for soloing over the chord changes.
This book is also fantastic for saxophonists to work on their "doubles" of flute and clarinet.
Each volume of Jazz Phrasing for Saxophone includes ten songs and two play-along CDs. Saxophonist Greg Fishman demonstrates each song on both alto and tenor, backed by a world-class rhythm section featuring pianist Dennis Luxion, bassist Eric Hochberg, and drummer Phil Gratteau.
• Includes rhythm-section-only tracks to practice soloing over the chord progressions.
• The rhythm section is recorded in two different keys, allowing all saxes to read the same written part, ensuring that each song lays perfectly on all saxophones.
Perfect for improving:
• Tone
• Pitch
• Phrasing
• Articulation
• Swing-feel
• Sight-reading Skills
Jazz Phrasing for Trumpet  and  Jazz Phrasing for Trombone feature ten melodic pieces which are easy to play, yet convey the essence of mainstream (Swing/Bebop/Bossa) jazz vocabulary. The pieces are catchy and melodic, demonstrating the use of sequence and voice-leading to make a musical statement.
The Phrasing for Trumpet book includes a play-along CD featuring trumpeter Victor Garcia playing each song with a world-class rhythm section, while Phrasing for Trombone features trombonist Russ Phillips. The CD's also include tracks featuring Greg Fishman demonstrating each song on alto saxophone, giving trumpet and trombone players the option of playing along with trumpet or alto saxophone.
In addition, there are play-along tracks featuring just the rhythm section. These tracks are great for practicing the songs, chords, scales, voice-leading lines and soloing over the chords progressions.
These books will provide valuable insights into a melodic approach to jazz improvisation. This book is recommended for players of all levels who wish to improve their tone, articulation, phrasing, and understanding of thematic development.
– Special Features of Jazz Phrasing for Trumpet and Jazz Phrasing for Trombone:

• Suggested Use Section – Detailed instructions on a variety of ways to work with the book.
• Style & Analysis Section – Clear, concise explanations of sequence, variation and voice-leading
• Thematic Index – Lets you compare the opening themes of all ten songs in a convenient two page "at-a-glance" format. Also includes detailed information on the opening interval of each song, as well as harmonic context of the opening interval.
Click the sheet music thumbnail  below for an mp3 and full-sized sheet music example.
Click an icon to purchase iPad app version