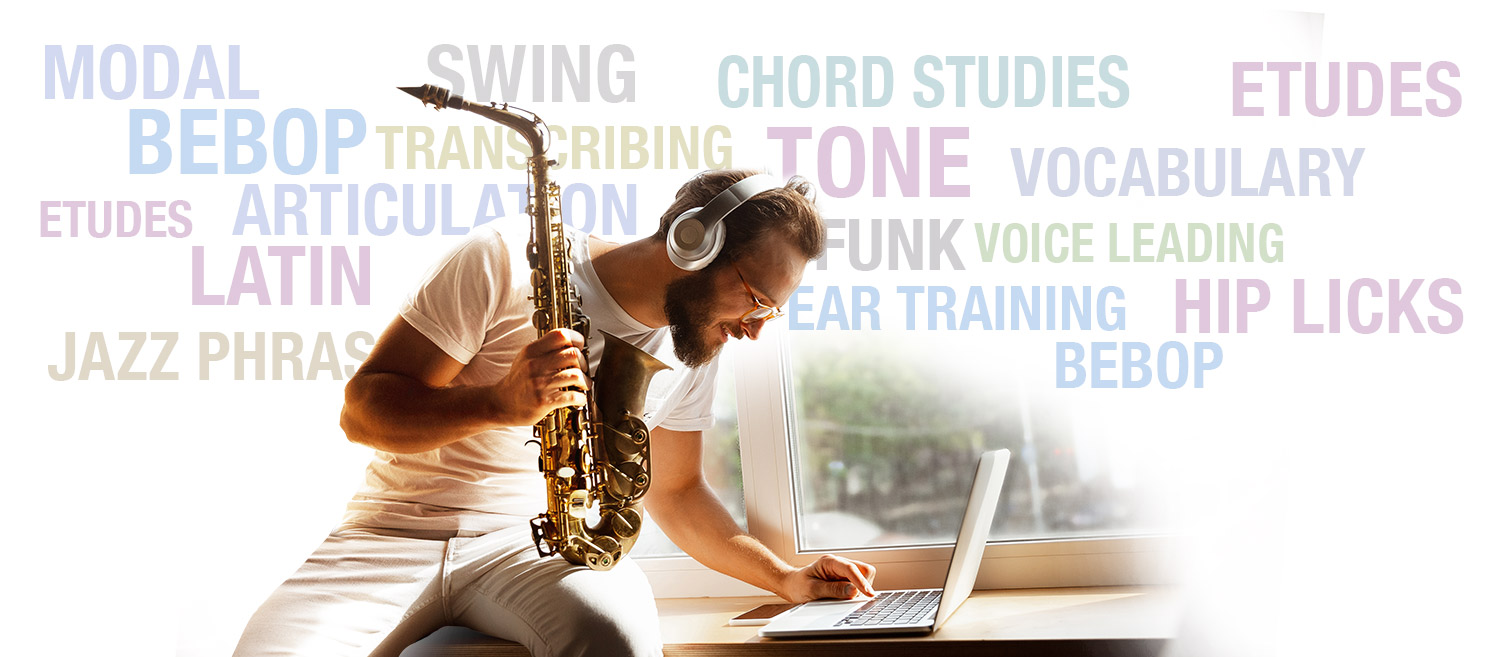 Greg's highly respected reputation as a jazz educator and performer is reflected in this unique and complete course of study that offers real-world results.
Lessons are aimed at a high level of musicianship but presented in a user-friendly way that all developing players can understand.
The packages featured below offer complete access to over 300 detailed lessons across 50 course modules with full downloadable lesson documentation, including relevant PDFs and MP3s for each video. More lesson modules are added monthly.
JUMP IN AND START LEARNING
Bronze Membership
Full access to all course modules and hundreds of video lessons for 1 month
Bronze memberships are charged monthly at $39.95
Silver Membership
Full access to all course modules and hundreds of video lessons for 6 months
Silver memberships are charged twice yearly at $199.95
Gold Membership
Full access to all course modules and hundreds of video lessons for 12 months
Gold memberships are charged yearly at $349.95

Some of the lessons and course modules featured at Greg Fishman Jazz Studios
PRACTICE STRATEGIES FUNDAMENTALS
Hearing the Metronome on 2 & 4
Interactive Metronome Practice
Lifting Weights – The Importance of Daily Practice
Four Directions – Thinking Locally and Globally
SCALES [FUNDAMENTALS]
Bebop Scale Highway – Part 1 of 3
Bebop Scale Highway – Part 2 of 3
Bebop Scale Highway – Part 3 of 3
TRANSCRIPTION [FUNDAMENTALS]
How to Transcribe Solos 1 of 4
How to Transcribe Solos – Part 2 of 4
How to Transcribe Solos – Part 3 of 4
How to Transcribe Solos – Part 4 of 4
ELEMENTS OF STYLE [FUNDAMENTALS]
6 Essential Elements – The Six of Diamonds
Melodic Embellishment
Cake, Frosting & Sprinkles – Part 1 of 3 – Lower & Upper Neighboring Tones on Triads
Cake, Frosting & Sprinkles – Part 2 of 3 – Lower & Upper Neighboring Tones on Triads
Cake, Frosting & Sprinkles – Part 3 of 3 – Lower & Upper Neighboring Tones on Triads
SAXOPHONE TRAINING [FUNDAMENTALS]
Breathing – Video Lesson
How to get a full tone on the Palm Keys
How to Play What You Hear in Your Head
ARTICULATION [FUNDAMENTALS]
Getting more impact from your short notes
The "Dooden" Tongue
VOICE LEADING [FUNDAMENTALS]
Basic Voiceleading for a ii – V – I – PART 1 of 2
Basic Voiceleading for a ii – V – I – PART 2 of 2
Voice Leading 101 – Part 1 of 2
Voice Leading 101 – Part 2 of 2
CHORDS [FUNDAMENTALS]
Diatonic Triads
The Coltrane Triplets
Sonny Stitt Triplets
Finding the hidden Diminished & Augmented Chords in the Chromatic Scale
VOICE LEADING [FUNDAMENTALS]
Basic Voiceleading for a ii – V – I – PART 1 of 2
Basic Voiceleading for a ii – V – I – PART 2 of 2
Voice Leading 101 – Part 1 of 2
Voice Leading 101 – Part 2 of 2